Jump, dive, slide and punch your way through the most brutal meat-mincing challenge yet
Together with Team Meat we are excited to announce that the devilishly difficult Super Meat Boy Forever is back and coming to iOS and Android on April 20th, 2023. Join Meat Boy and Bandage Girl as they embark on a hazardous quest to save their daughter, Nugget, from the nefarious Dr. Fetus.
Get ready to take the meaty goodness of Super Meat Boy Forever with you wherever you go. Whether you're on the toilet, waiting in line, or ignoring your significant other, this game will have you covered. With familiar settings and new worlds to explore, you'll run, jump, punch, and kick your way to glory.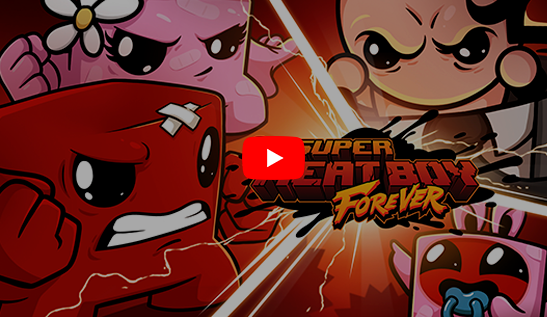 Super Meat Boy Forever is the ultimate challenge for mobile gamers. With randomly generated levels, every playthrough offers a fresh and exciting experience. And while the game can be tough, it's also incredibly rewarding. Each time you conquer a level, you'll get that sweet Super Meat Boy feeling of accomplishment that's hard to find in other games. But that's not all – Super Meat Boy Forever is packed with thousands of level chunks that can be combined in endless ways. This means you can replay the game several times without ever seeing a duplicate level. It's like having an infinite amount of meaty goodness at your fingertips!
So if you're looking for a game that's equal parts challenging and rewarding, look no further than Super Meat Boy Forever on mobile. It's the perfect way to test your skills and have a blast at the same time.
"Super Meat Boy Forever was born out of a desire to make a two button Meat Boy game that was as hard and as rewarding as the original Super Meat Boy. Two buttons makes it a no-brainer for mobile," said Team Meat co-founder and programmer Tommy Refenes. "With Thunderful's help we were able to bring the entire game, already on PC and consoles, to mobile without sacrificing anything. It's the full game for $0.99, no ads, no micro-transactions, just pure Meat Boy joy on a phone. What a time to be alive."
Super Meat Boy Forever will be available on iOS and Android on April 20th at a price of $0.99 / €0.99 EUR / £0.99.