Grab your shovel, pickaxe, and sword as you explore and uncover all that Tinkertown has to offer
Thunderful and Headup are excited to fully launch the mystical multiplayer sandbox adventure, Tinkertown, today on PC for $16.99 / €16.99 / £13.49 minus a 40% release discount. The game features Steam Deck support, online-multiplayer for more than 4 players, and will come to consoles in the future. A magical place awaits, filled with loot, danger, and creativity. Enjoy all of this with friends or face the world by yourself, crafting your own village – from small shacks to impressive castles and towering townships, let your imagination guide you.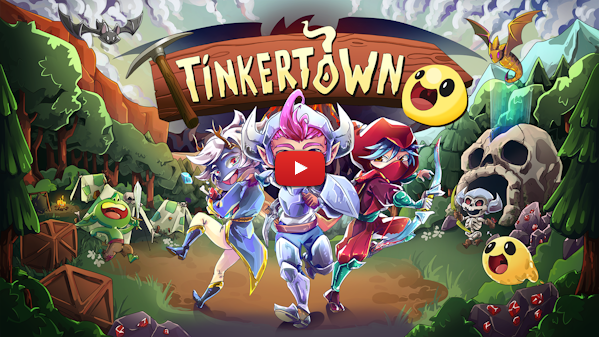 Tinkertown is a refreshing new multiplayer sandbox adventure – experience beautifully handcrafted pixel art and unique biomes to get lost in as you enter the depths of the Mystical Forests, roam the Great Deserts and brave the Ice Tundra. Gather resources as you explore this procedurally generated world to craft tools, weapons, furniture and even complete buildings!
New features for the release include a Journal that will accompany you on your epic adventure showing NPCs, achievements and quests – with all quest progress and rewards shared between players on the server meaning everyone can reap their well-deserved rewards. Another new feature introduces rapport-building with NPCs by solving quests and upgrading their houses with decorations they like, which will grant players additional rewards! The Journal also includes recipes and resources found during your travels with hints leading to new discoveries as well as a Bestiary that shows all the monsters you've encountered, where to find them, when to find them and their specific lore.
While the surface world is mostly peaceful, only the most courageous explorers will enter the sinister dungeons scattered around the world and defeat the horrors that live within. In these dungeons, you will find some previously encountered enemies in a whole new shape, as well as a completely new end boss where epic loot awaits those who dare to face the underworld. There is more content planned to drop after release, like an additional biome, lots of items and even more dungeons.
"We are so excited for you to play Tinkertown today and experience this adventure like no other with friends or on your own," said Julian Reinartz, Development Lead of Tinkertown. "Tinkertown launches today for PC (Steam) and will follow on consoles later."