Put your riding skills to the test in the next Lonely Mountains: Downhill DLC launching today
Thunderful & Megagon Industries take you on an exhilarating new trip through nature in their latest free DLC for Lonely Mountains: Downhill, Redmoor Falls, launching today on all platforms. Race down the unforgiving hills of the lost "Whispering Lake" trail while sporting new outfits and accessories.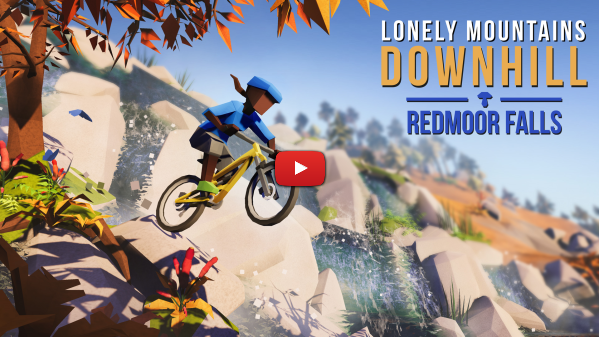 Enjoy a thrilling ride down an atmospheric and unspoiled mountain landscape. Wind your way through narrow dusty trails, along wild rivers and misty swamps while you take on the new challenges to win some eye-catching aqueous accessories for yourself and your bike from the new water elemental set.
"We're excited for you to experience the beauty of Redmoor Peaks on the all-new Whispering Lake trail," said Daniel Helbig, co-founder of Megagon. "Get back on your bike and take to the mountain trails for one epic adventure."

Lonely Mountains: Downhill is available on Nintendo Switch™, Xbox One, PlayStation®4 and PC (Steam® & Microsoft Store). The game is also verified for Steam Deck and a demo is available on Steam® and Nintendo Switch™. Keep an eye out on Lonely Mountains' Twitter, Instagram and Facebook pages to stay up-to-date on all the latest, straight from the mountain peaks.
Lonely Mountains: Downhill was initially released on October 23rd in 2019. During its first year, the game has been a hit amongst players and critics alike; resulting in more than three million players (3.7 million as of November 2022). The game won awards such as "Best Indie Game" at the German Developer Awards and "Best International Indie Game" at Poznan Game Arena. Prior to the current Redmoor Falls DLC, Lonely Mountains: Downhill received two other free DLCs earlier which both added additional environments and tracks, "Riley's Return" and "Misty Peak".
For more information about Lonely Mountains: Downhill please visit the official website: https://lonelymountains.com/