Jump, dive, slide and punch your way through a fantastically brutal Meat Boy challenge without ever having to leave your bathroom
Get ready to embark on a gristly quest with Meat Boy and Bandage Girl in Thunderful and Team Meat's Super Meat Boy Forever, available now on iOS and Android for only $0.99 / €0.99 / £0.99. Join the heroic duo as they rescue their daughter, Nugget, from the clutches of the villainous Dr. Fetus!
Super Meat Boy Forever is the ultimate challenge for mobile gamers, with randomly composed levels that provide a fresh and exciting experience with every playthrough. While it's tough, it's also incredibly rewarding, giving you that sweet Super Meat Boy feeling of accomplishment with every level conquered.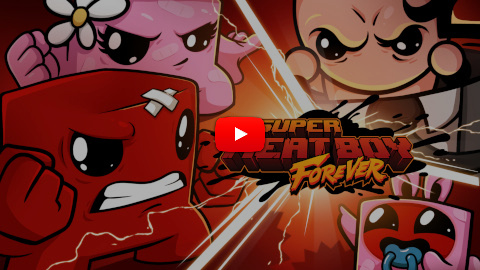 With familiar settings and new worlds to explore, you'll run, jump, punch, and kick your way to glory. Take the meaty goodness of Super Meat Boy Forever with you wherever you go – whether you're on the toilet, waiting in line, or ignoring your significant other, this game will keep you entertained with thousands of level chunks that can be combined in endless ways. So if you're up for a challenge and want to have a blast at the same time, look no further than Super Meat Boy Forever on mobile.
"Two buttons, hard as hell, bloody, rewarding and a whole bunch of fun – that's Super Meat Boy Forever!", said Tommy Refenes, the co-founder of Team Meat. "Thanks to Thunderful's help, we've brought the entire game to mobile. No ads, no micro-transactions – it's the full, uncompromised Super Meat Boy Forever experience for just $0.99. We were going to charge per life but we were afraid doing so would tank the global economy."