Shores of Taishi, the new DLC for Thunderful and independent developer Maschinen-Mensch's Jules Verne-esque narrative roguelike adventure Curious Expedition 2, is available today for $5.99 / €5.99 / £4.99 on Nintendo Switch, PlayStation®4 and Xbox One and is also playable on PlayStation®5 and Xbox Series X|S via backwards compatibility.
Shores of Taishi adds a bounty of new content to the mysterious lands of Curious Expedition 2. A new island type, Celestial Shores, comes with a completely new set of tiles, a new game mechanic related to teleporting between islets and the new Peacock Tribe. Shores of Taishi allows players to recruit six new characters to their party, including Red Panda, Tanuki, Ghost Catcher and Warrior Peacock. That's not all: with six new enemy types, four new locations, six new pieces of equipment, seven new Sanity Items, six new Trophies and four new club levels to unlock, there's plenty of new content to get stuck into.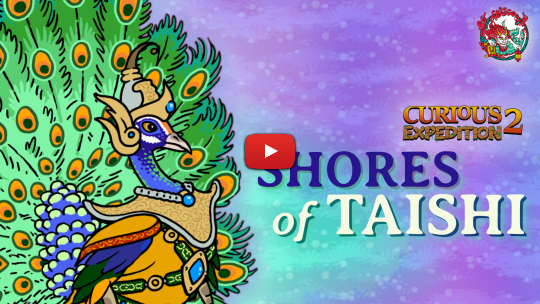 Curious Expedition 2 is a Jules Verne-esque pulp adventure inspired by pen & paper RPGs and mixed with narrative roguelike elements, all wrapped up in a streamlined and accessible gameplay experience. Set in a reimagined late 19th Century, mysterious islands shrouded in purple fog have begun to appear in the oceans, only to vanish soon afterwards. The three great Explorer Clubs of Paris are now funding expeditions to these strange islands in a bid to make bold new discoveries. These new treasures will be exhibited in their stands at the upcoming World's Fair. Will you seek out the legendary Golden Pyramid, or choose to recover the Rainbow Orchid instead? In Curious Expedition 2, a world of unimaginable wonder and surprise awaits!
Take on the role of an intrepid explorer, assemble your crew and head out into the unknown. On your expeditions you'll come across all manner of cultures, flora, fauna, treasures and more, ranging from the worldly to the altogether more… curious! Using a combination of hand-crafted and procedural gameplay and story elements, Curious Expedition 2 creates completely unique and epic adventures every time you play.
Shores of Taishi follows the release of the Highlands of Avalon DLC, adding its own set of tiles, a new mechanic for traversing hills and valleys, a new tribe, recruitable characters, equipment and more. WIth this latest release, Curious Expeditions 2 will be bigger and more varied than ever before, offering constant surprises and new adventures every time you play.
Full feature list:
New island type: Celestial Shores, with a completely new set of tiles, a new game mechanic related to teleporting between islets and the new Peacock Tribe
6 new recruitable characters: Red Panda, Tanuki, Ghost Catcher, Warrior Peacock, Shaman Peacock, Scout Peacock
6 new enemies: Ushi Oni, Dangkang, Spectral Tiger, Spectral Snake, Tanuki Enforcer, Tanuki Motivator
4 new locations: Animal Shelter, Bath House, Wild Tanukis, Rite of Passage
6 new pieces of equipment: Bo Staff, Guandao, Jian, Bamboo Hatchet, Geta Sandals, Bagua Mirror
7 new sanity items: Zongzi, Sake, Lo Mai Chi, Chinese Tea, Go Board, Peach, Bamboo Flute
6 new trophies: Dangkang Tusk, Ushi-Oni Leg, Red Panda Fur, Phoenix Ashes, Spectral Tiger Pelt, Giant Spectral Snake Skin
4 new levels to unlock at the Taishi Academy Explorer Club in Paris, giving access to 1 Recruitable character and 3 pieces of Equipment
"Supporting Curious Expedition 2 with new content to expand the mysterious terrain players have to explore has always been important to us," said Riad Djemili, CEO at Maschinen-Mensch. "This new DLC adds another unique dimension where players will encounter an aesthetic unlike anything they've discovered in the game so far. Have fun out there explorers!"